Mae Sai Village

ABOUT MAE SAI: It is 61 kilometers from Chiang Rai. Highway 110 is the northernmost district of Thailand, adjacent to Burma's Thach Khee. The Mae Sai River is the border. There are bridges linking both Thai and Burmese people traveling freely. Thai tourists go to Mae Sai and Tha Kheek markets of Burma. To buy local products and cheap products such as Burmese herbal soap. Thai tourists travel to Burma on a daily basis from 16:30 to 18:00, using public ID cards or other official cards issued by the government. The service fee is 30 baht per person and the border fee is 10 baht. The products that are not allowed to buy in Thailand are wildlife products, alcohol, foreign cigarettes and obscene CDs. The import tax must be correctly imported by the Mae Sai Immigration

PEOPLE & LIFESTYLE: Generally farming is main occupation. With the Mae Sai. Close ties with Buddhism. Local artists in the past took the Mekong River to carve a Buddha image to worship with respect. Such wisdom. From generation to generation. It is a natural heritage that was given to Mae Sai as the largest stone carving site in Thailand.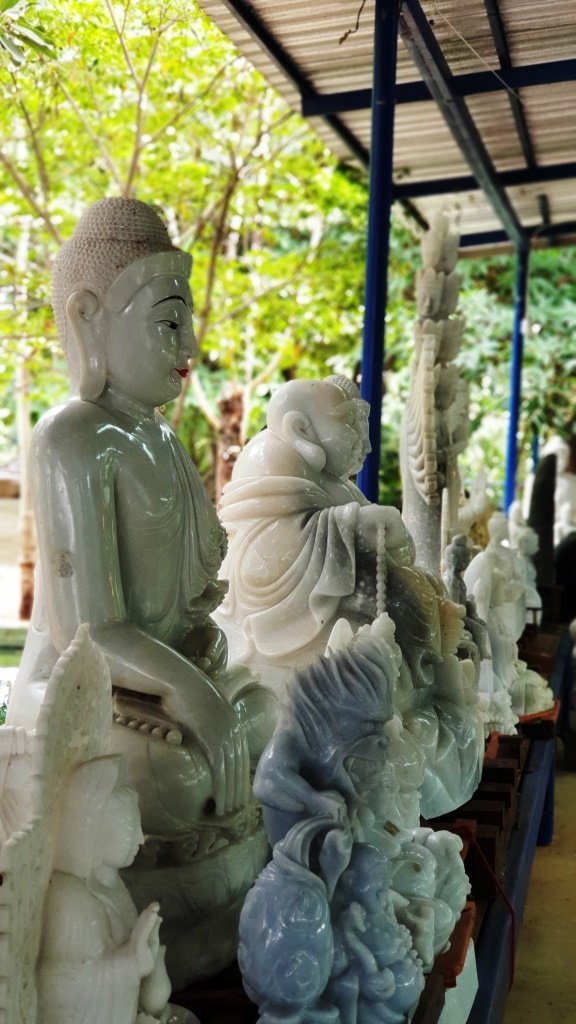 FOLK WISDOM: If you talk about the occupation of the Mae Sai, Chiang Rai, most often border trade or agriculture, especially in the plantation that in fact, this land. It is the largest center of the country, including beautiful stone carvings. Which brings wisdom from generation to generation.
Mae Sai has become the center of the largest stone carving business in the country. It is located in the area adjacent to the Mekong River. Raw material source The "Mekong River" is a long-eroded stone. It features beautiful shiny gloss. Various colors such as green, red, black and brown.

LOCAL PRODUCTS:
Stone carving

Jade carving

Jewelry

Reed mats products